OUR VISION:
Fun, loving, safe and comfortable vacations for your pets while you are away!
Our unique luxury dog boarding facility is designed to let you vacation worry free. Your dog stays in our cottages while getting lots of one on one attention. Plus, 5% of our profits are donated to a separate fund to begin our future non-profit, Adoption and Rehoming Cottage (ARC) to help homeless dogs find their path to their forever homes.
Our Story
The Cottages is a luxury dog boarding and rehoming facility in a country setting just off I64 in Louisa, VA. The boarding facility provides a fun filled vacation for your pet! The property is made up of 6 cottages and lots of play yards. Throughout the day, our guests can choose to spend their time inside the heated and air conditioned luxury runs or enjoy the smells, sounds and sights from the attached outdoor, partially covered runs. All dogs enjoy time in our grassy play yards with friends, either human or canine & human, depending on the preference of our guest. We give each pet individualized care, lots of attention and love. In addition, 5% of all profits are donated to the future non-profit re-homing facility, the Adoption and Re-Homing Cottage (ARC) which is in the works. The non-profit will be located on site, but will be separate from the dog boarding facility. Rather than reinvent the wheel, ARC will assist local shelters and rescues by fostering, training and helping to re-home their dogs. So not only does your pet get the best care available and tons of love in our boarding facility, you also help homeless pets each time your dog boards with us.
The Cottages was born out of a deep love for animals. As a child, I knew in my heart that my passion for animals would play an important role in my life. Over the years, from working on the business side of the entertainment industry in Los Angeles, to running a behavioral health company that helped people regain their lives, I loved my work but had moved away from my deep passion for animals. Then I read the book A Year to Live by Stephen Levine. After pondering how I would live my life differently if I only had one year to live, I found my way back to my original path, to help animals. This is my life passion. I returned to school to get my MBA in entrepreneurship to work through my ideas and then moved from the cement filled streets of Los Angeles to the beautiful greenery of Central Virginia. While here, I worked at the Charlottesville-Albemarle SPCA for four years, where they taught me about animal care and the wonderful programs offered to help pets and their people in the area. I realized that this pet loving community is where I wanted to make my home.
During a recent reorganizing effort, I came across a binder of school projects from elementary school. One of the assignments asked "what would you do if you had a million dollars?" My response was "buy a fram and save all the animals." I could not say it better as my adult self (although I like to think I would spell it better!) This little paper helped confirm that I am on the right path. And thus the Fram project, The Cottages, was born.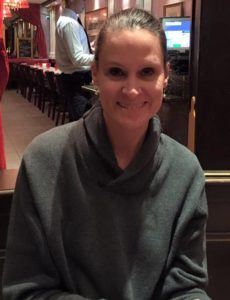 Sarah Chapin Strentz, Owner
Sarah did her undergraduate work at Occidental College in Los Angeles where she majored in Economics. She then worked on the business side of the entertainment industry, selling independent films internationally at markets like the Cannes Film Festival and London Screenings. In 2010, after receiving her MBA from the University of Southern California with an emphasis in Entrepreneurship, Sarah took the position of Executive Director at an addiction treatment center. Over the next several months, she successfully piloted the company through a merger and increased profits over the next couple of years. In 2013 Sarah moved to the Charlottesville area to work on her plans to start a luxury dog boarding facility that helps to fund a pet rehoming project. For four years, Sarah worked at the Charlottesville-Albemarle SPCA in various positions, including Adoption Counselor, Cat Care Manager and Director of Finance. Her inspiration to bring her business background to the animal hospitality and welfare sector was her rescue dog, Gato, who passed in 2013. Gato walked Sarah through some very challenging times in her life, like an angel. Sarah feels that Gato is still spiritually with her and that they are walking this venture to together.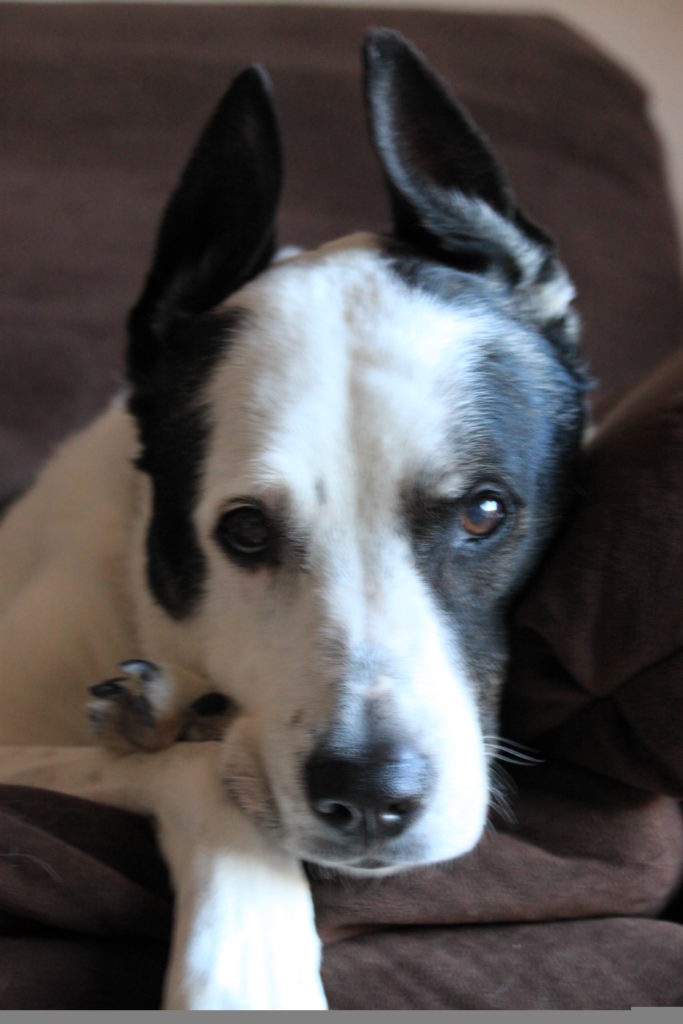 ---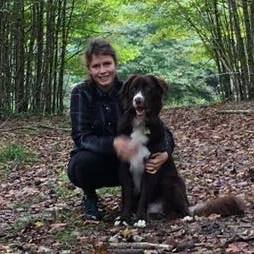 Talya Vardimon, Manager and Trainer
Hailing from Jerusalem, Israel, Talya has spent most her life working with animals. As a child, she trained friends' and family's dogs and ran a tiny dog and cat rescue from her parents' balcony. After high-school she studied Veterinary sciences in Denmark for a few years before returning to Israel to study painting. She moved to the US in 2012 where she served as the kennel manager of the Humane Society of New York and worked with Broadway animal trainer Bill Berloni. After arriving in Charlottesville in 2016, Talya worked as the Animal Care Manager and then as the Dog Behavior Specialist at the Charlottesville-Albemarle SPCA. Talya is a Certified Professional Dog Trainer – Knowledge Assessed through The Certification Council for Professional Dog Trainers.
Talya shares a home in Charlottesville with her husband Abraham, their kids Leon and Ariel, their two dogs – Sunday and Kermit, and two cats – Patty and Ivan.
---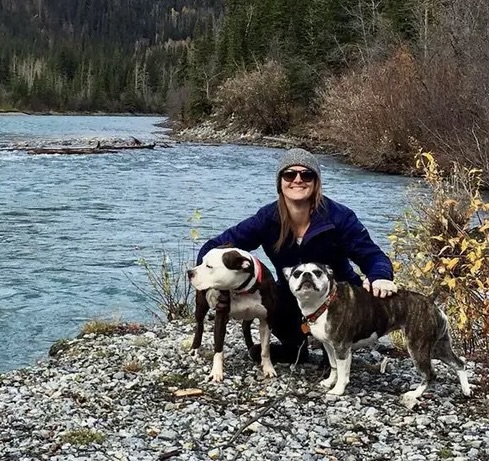 Samantha Davis, Dog Care
Samantha was born and raised in Williamsburg, Virginia, and grew up on the Little Creek Reservoir enjoying the outdoors. After attending James Madison University in Harrisonburg, she moved to Charlottesville and took a position as a Front Desk Counselor at the CASPCA in 2011. Samantha also worked as the Front Desk Manager, Volunteer Coordinator, Humane Education Coordinator and Director of Operations before ending her time at the shelter in 2021. She lives in Barboursville with her two dogs, Gertrude and Declan, and Cece the Cat.
---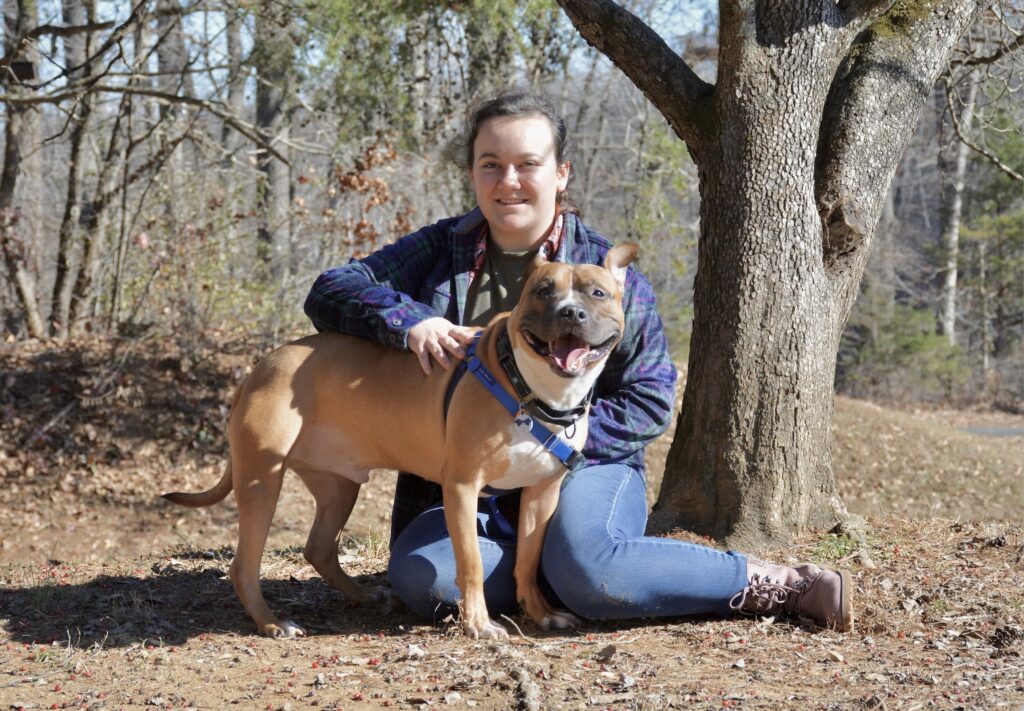 Ellie Hutchins, Dog Care
Ellie has always cared about animals, even from a young age. She grew up in Crozet, VA where she developed a deep passion for caring for dogs. She started her first job as an independent contractor pet sitting. In 2013 she started an internship at Canine Campus where she found her love for training and growing a deeper human-dog bond. Ellie studied and graduated from PVCC with a Liberal Arts degree, meanwhile working at the Charlottesville-Albemarle SPCA as a Dog Care Specialist. There Ellie found her true passion in working with dogs that have behavioral needs. In her free time Ellie enjoys spending time training her dog Walnut, pet sitting, and spending time with friends and family. She is aspiring to be a Certified Pet Dog Trainer – Knowledge Assessed within the next few years.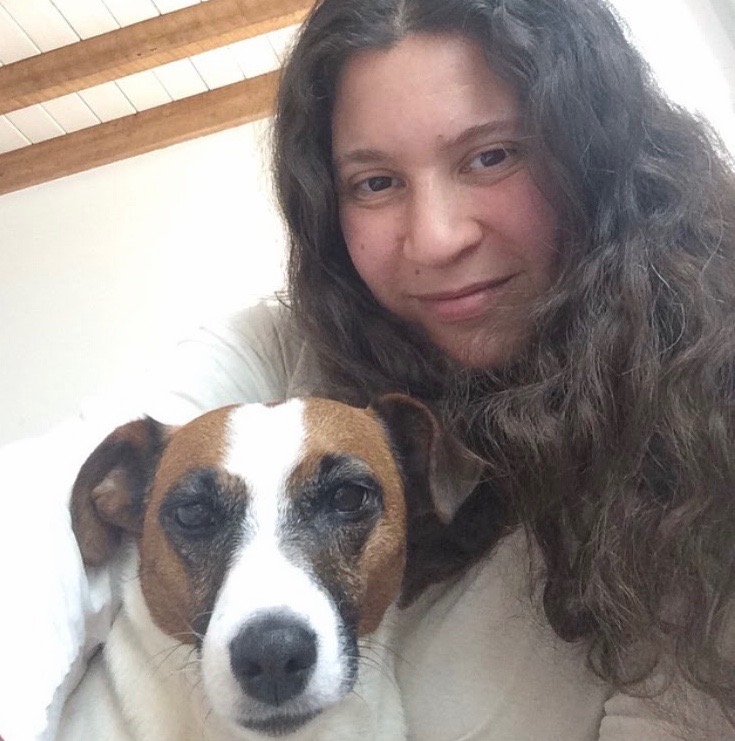 Vijay Owens, Dog Care
Vijay was born and raised in New York City. She started cat sitting for neighbors at age 10. Once they forgot to leave the key and she was able to climb in through a window. Instead of shifting gears to burglary, she continued pet sitting and babysitting until she left for college. She also worked at a used and rare bookstore called Gryphon Books. After earning a journalism degree from Binghamton University in upstate New York Vijay returned to NYC. Before she found a publishing job, she worked at her stepmother's pet care business Manhattan TLC For Pets. Even throughout her professional career Vijay continued to help walking dogs for the family business.
After moving to Virginia in 2004 to raise her two daughters with her musician husband Charles, Vijay worked as a nanny for many years: work that to her delight often included walking the family dog. Once her girls reached their teen years Vijay decided she wanted to retire from nannying and work with animals again and got a job on the cat care team at Charlottesville Albemarle SPCA.
Vijay loved working with the cats at CASPCA but the logistics of working there with one homeschooled daughter and one special needs daughter proved difficult so after about a year Vijay decided to leave CASPCA and be a freelance pet sitter. Walking dogs is fun and rewarding for Vijay and leaves her more time for family and for her to help out at the Cottages when needed.
---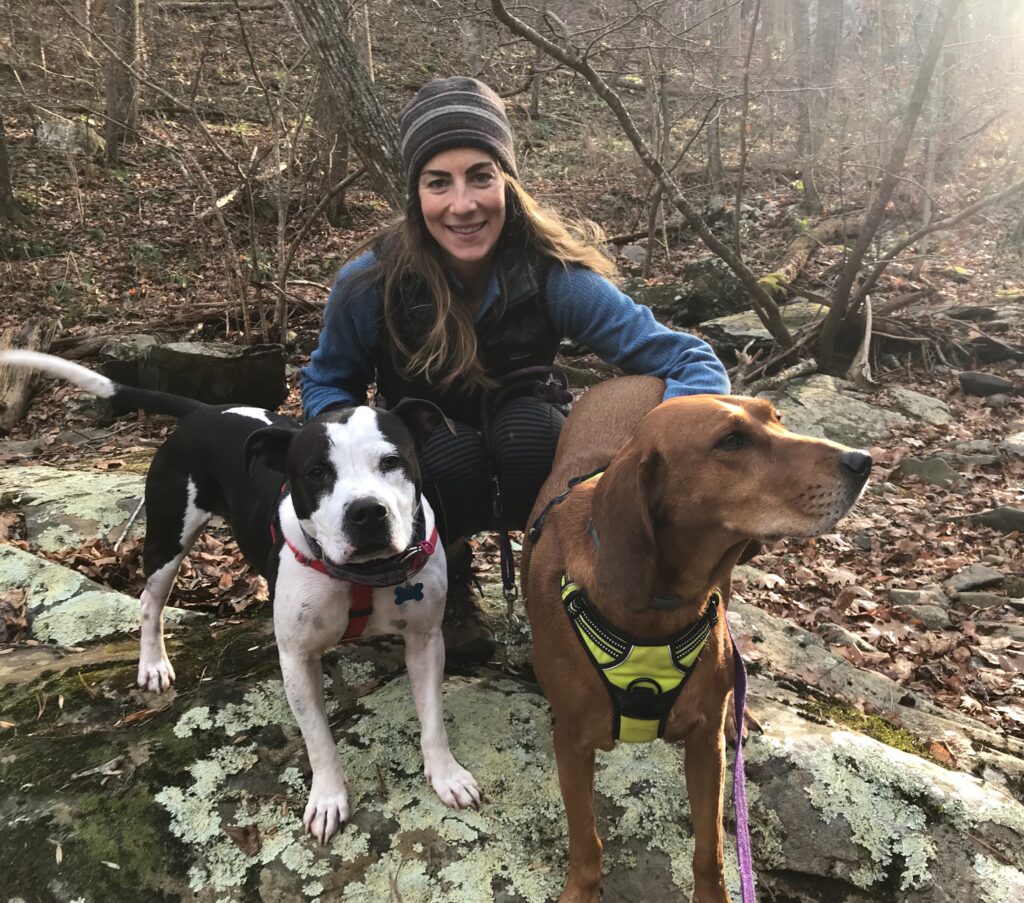 Stacey Jackson, Dog Care
Stacey grew up in Massachusetts, and has had a deep love and respect for animals since a young age. After years of living in different parts of the country, she ended up spending 3 months volunteering on a small game reserve in South Africa, where she was able to track and observe key species for conservation efforts. Upon her return she spent a year back in Washington, DC, pursuing different opportunities to continue supporting wildlife conservation.
She moved to Charlottesville in 2014, and began working at Relay Foods. When the company closed their doors, she joined the Charlottesville-Albemarle SPCA as an adoptions counselor, and later became the volunteer manager. Her shelter experience, along with her first adopted dog, Franklin, taught her more than she could ever imagine about canine behavior – the good and the bad – and helped shape her appreciation and understanding of these dynamic animals.
Stacey lives on a small farm in Esmont with her husband, two dogs, and a mixed flock of birds.
---
Call today to reserve a room: 540.390.0911. We also text! Or email us at
[email protected]