The Cottages is located in Central Virginia just off I64 between Richmond and Charlottesville. We are 30 minutes from C'Ville.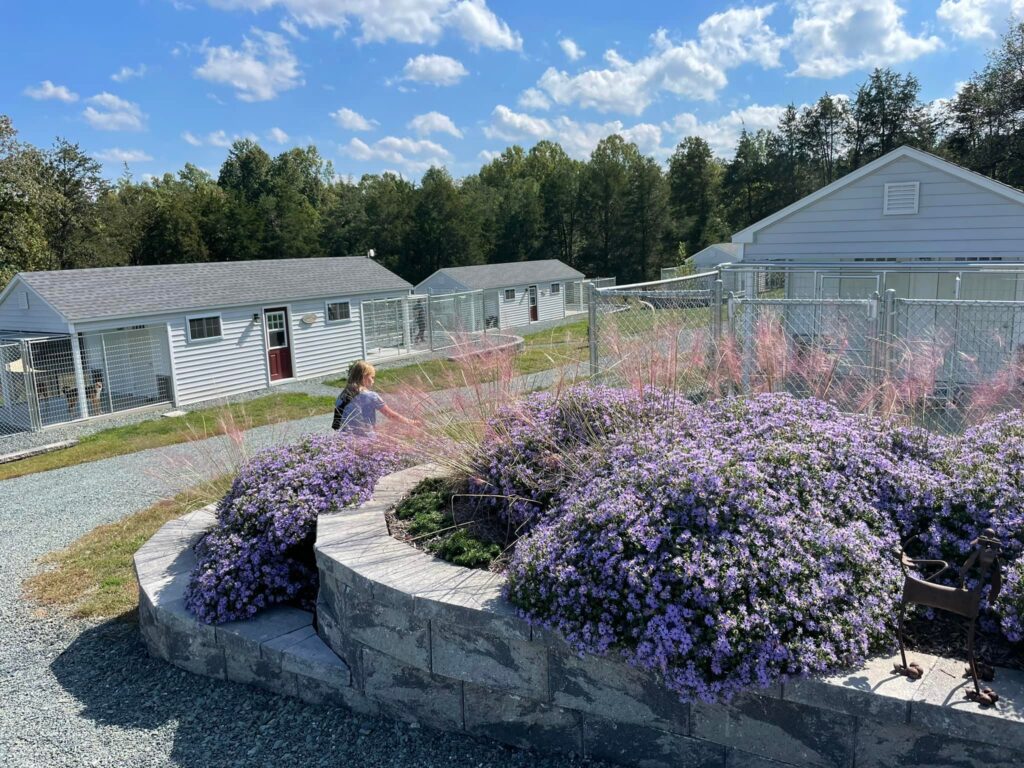 Please note: Our weekends are currently booked through the second weekend of January 2024. Thanksgiving and Christmas 2023, and Easter 2024 are also currently full. If you would like to go on our waitlist, please let us know. Thank you!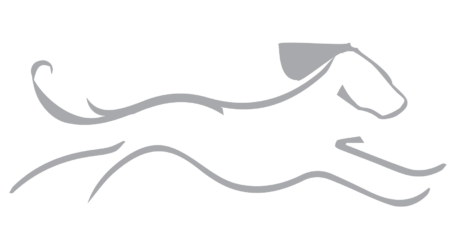 Video tour of a dog cottage:
To schedule an in-person tour of our facility, please text/call 540.390.0911 or email [email protected].
Our Dog Boarding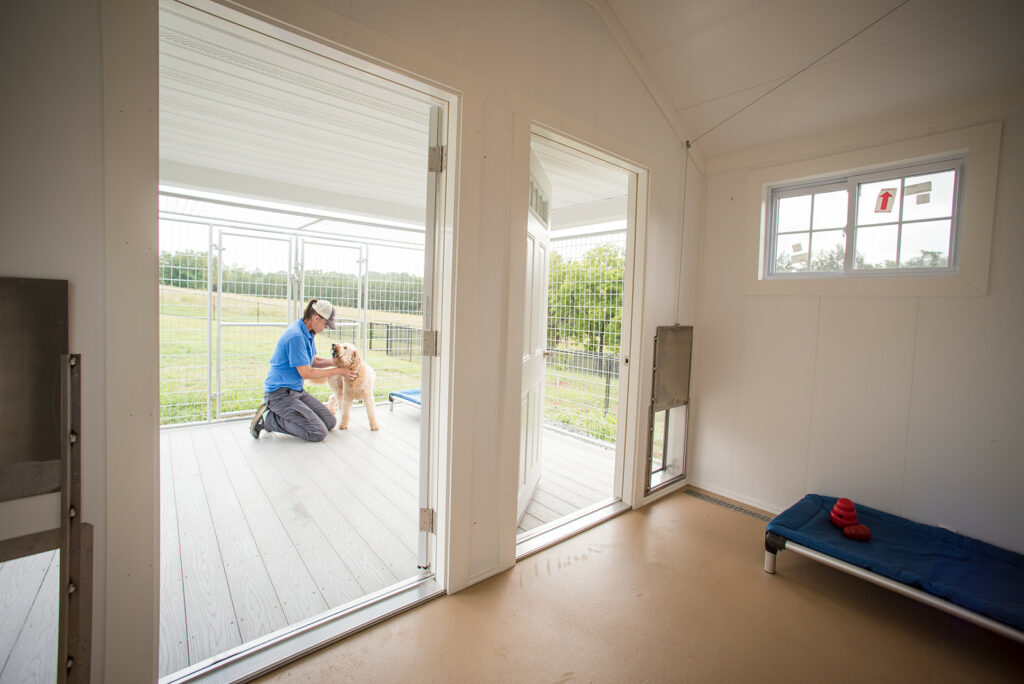 What sets us apart?
We offer spacious, climate controlled cottages with private decks and gravel areas. For extra safety, we have a 6′ perimeter fence that encompasses the cottages and the play yards. From the deck, your dog will have a view of the other pups, play yards and/or staff. No day is boring here! Your dog has his own space but will not feel alone. And the wildlife, including deer, squirrels and lots of birds, provide even more entertainment.
At least 45 minutes of play time with a human in a yard is included in their stay. Want more time? Not a problem! We can add on 30 minute increments at $25 each.
Knowledgeable, seasoned and loving staff members. The people who work here make The Cottages special. Most employees have worked for years at shelters prior to arriving at The Cottages. We know how to handle challenging situations, if needed, but prefer to spend time loving your dog. Please see our About Us page for more information on our humans.
Overnight Dog Boarding
Why stay in a kennel when you can vacation in a cottage?!
The Cottages provides a fun-filled, luxurious boarding adventure for your dog! So there is no more feeling guilty when you leave your dogs behind. We are second best to home as we will love your dogs (almost) as much as you do!
Our Unique Spacious Cottages + Love + Exercise = A Vacation for your Dog!
Your dog will enjoy a spacious 6'x12′ climate controlled interior living room with day-long access to a partially covered 12'x10′ private deck, and a private gravel yard, if desired. Throughout the day, your pup will spend time in one of our 5 play yards and will get lots of personal loving attention from our caretakers. Overnight, your dog will be able to relax in a private room.
Plus 5% of profits are donated to our non-profit (which is in the works!) that helps homeless dogs find their forever homes. ​
Prices
Per night for 1 dog: $75
Add an additional family dog to board overnight in the same living space (there is plenty of room!) for only $35
And add a third dog in the same space for only $25 more
So, this adds up to:
Cost:
Per night for 2 dogs in the same space: $110
Per night for 3 dogs in the same space: $135
Per night for 4 dogs in the same space: $160
Please carefully review our vaccination policy:
To keep all of our four legged guests safe, we require proof of up to date vaccinations for :
Rabies
Distemper
Bordetella (Kennel Cough)
Distemper and Bordetella vaccines must be administered at least two weeks prior to staying with us, unless the vaccine is a booster. The initial Distemper vaccine is a series of shots. In this case, we require the last vaccine of the series to be given at least 2 weeks prior to the stay. The initial Rabies (and any Rabies vaccines given more than a month past its due date) must be given at least 28 days prior to arrival. We do accept titers.
Please send us proof of up to date vaccinations at your earliest convenience. If you have any questions please reach call us at 540.390.0911 and we will be happy to help.
Ready to submit a request for your pet's overnight stay?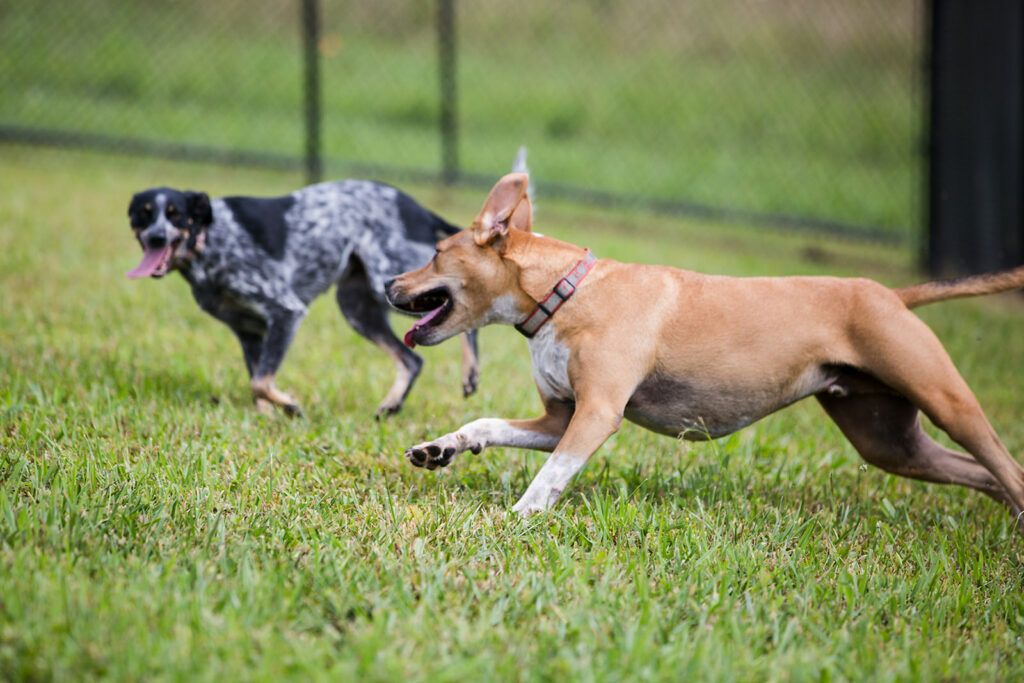 Dog (and Human!) Training
We are also excited to offer basic dog training!
Want your dog to get started on basic training like recall, sit, stay, down, walk nicely on the leash and other behaviors? Or does your dog just need some polishing up on his/her skills?Talya Vardimon CPDT-KA offers reward based training so your dog learns and has fun – your dog is on vacation after all! In order to get even more out of her sessions, schedule a training session for both you and you pup when you return!
What people are saying about us (check our Google reviews for more):
I'm pretty sure our dog barely missed us during his stay at the Cottages! We looked forward to receiving the daily photos of him and it always looked like he was having a great time – having pool days and running in the open fenced in yard.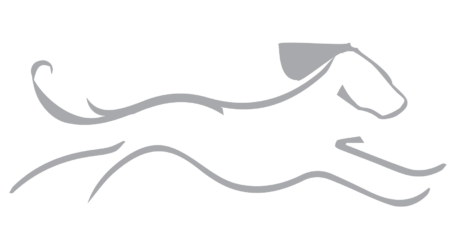 We loved loved loved the Dog Cottages. We boarded 4 family dogs during my daughter's 2 days of wedding festivities. All 4 furry babies were very happy & very healthy when we picked them up. First time I have ever picked up my dog from boarding & he wasn't sad or angry with us. As others have stated, The Dog Cottages is by far the best boarding operation we have ever used and plan to use again. We highly recommend them!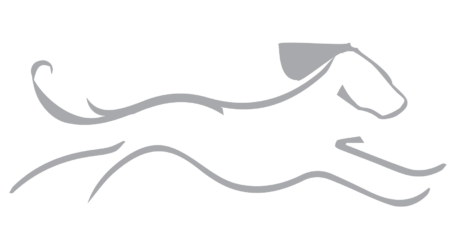 It was a great experience! Our dog is blind and I was very comfortable leaving her with them. We got her home today and she's totally herself. Not stressed or overtired! It was Abbey's birthday while we were gone and they went above and beyond on her special day!!! We will be using them again in the future!!!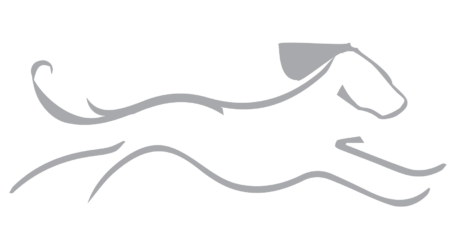 I cannot say enough great things about The Cottages….The grounds are PERFECTLY maintained… I get pics and videos and a report card everyday. My puppy means the world to me and this is the ONLY place I will be boarding him from now on.
Contact us at 540.390.0911 or email us at [email protected] for more info.
The Cottages is located just off I 64 with easy access from Charlottesville and Richmond.
---
Next Steps…
Call today to reserve a room: 540.390.0911. We also text! Or email us at
[email protected]
Photos by Petography Cville. www.petographycville.com